Focus Feature: House of Trembling Madness – Best Independent Craft Beer Retailer (Single) 2017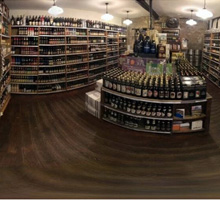 Our 'Focus Features' aim to shine a light on the previous winners of SIBA's Business Awards in the run up to the launch of the 2018 SIBA Business & Industry Awards on 1st November 2017.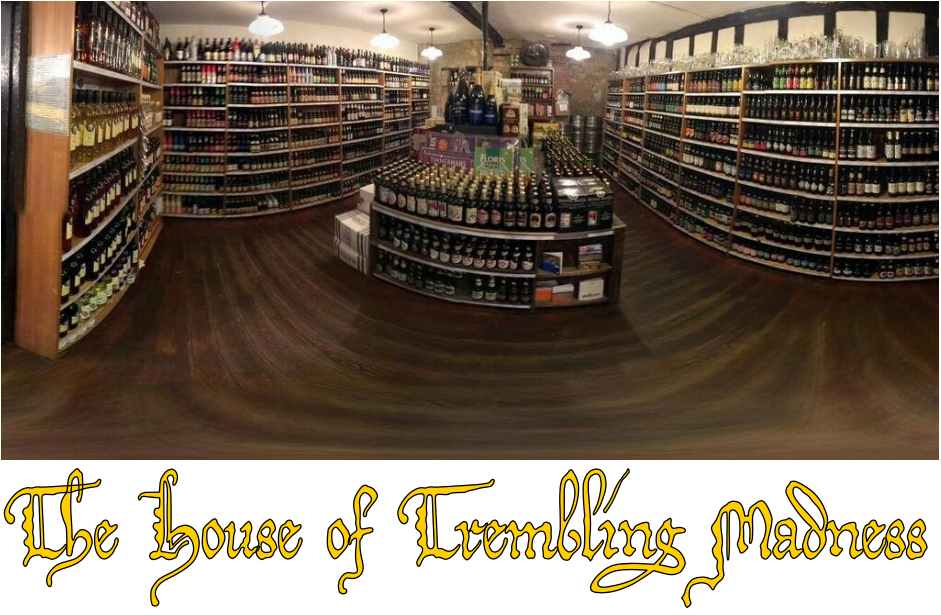 The House of Trembling Madness
Best Independent Craft Beer Retailer (Single) 2017
In a marketplace where fantastic beer from around the World can be purchased on most highstreets it takes a lot to stand out from the crowd in the highly competitive "Best Independent Craft Beer Retailer" category. However The House of Trembling Madness was a hit across the board with judges, not only offering an unrivalled range of independent craft beers but also a uniquely British, eccentric style and true longevity – having over 6 years of trading under its belt.
"The House of Trembling Madness really is one of a kind. Walk past and from the outside it looks like an unassuming bottle shop, but tread inside and you're confronted with an Aladdin's cave of fantastic beer and even a secret craft beer bar serving a small but very well selected range of draught beers. It's a real must visit for any lover of independent craft beer and a very worthy winner." Neil Walker, SIBA Business Awards Judging Chair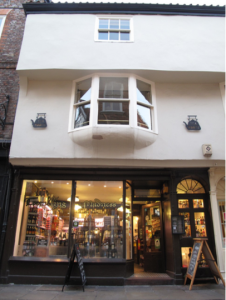 House of Trembling Madness (HOTM) has been operating for over 6 years on Stonegate in York and is situated in a small medieval building that dates back to 1180ad. We sell over 800 different ales, more than 1000 spirits plus many, many other products.
The name derives from medieval times when people drank more beer than water as it was safer, often they got the trembling madness commonly known as "Delirium Tremens" or the "DT's" (now the name of a popular Belgian beer).
The House of Trembling Madness on their beer range
The beer range contains both the best local and the best of Britain, with dedicated Scottish, Welsh, Fruit and Stout/Porter sections. For world beers our ranges are Belgium, German, US, Scan- danavian and mixed world. We also supply a large Gluten Free and Alcohol Free range.
We browse the internet researching and sourcing current and upcoming trends to try to be ahead of competition. Our range is hand picked for the best new and best traditional beer available. The local press contains our Saturday beer column and we have had great media coverage from the BBC, Channel 4, national and international press.
Many breweries have heard of our business and have visited our business which has lead to us doing collaboration brews and national beer launches. Even Founders, Brooklyn and Lagunitas have visited from the US.
Our small team visit the main UK beer festivals as well as visiting European breweries to try to gain new products and product knowledge. The business also run beer festivals and do charity events promoting local and new craft ales. We try to help all customers understand the products and can recommend new ales based on their palate.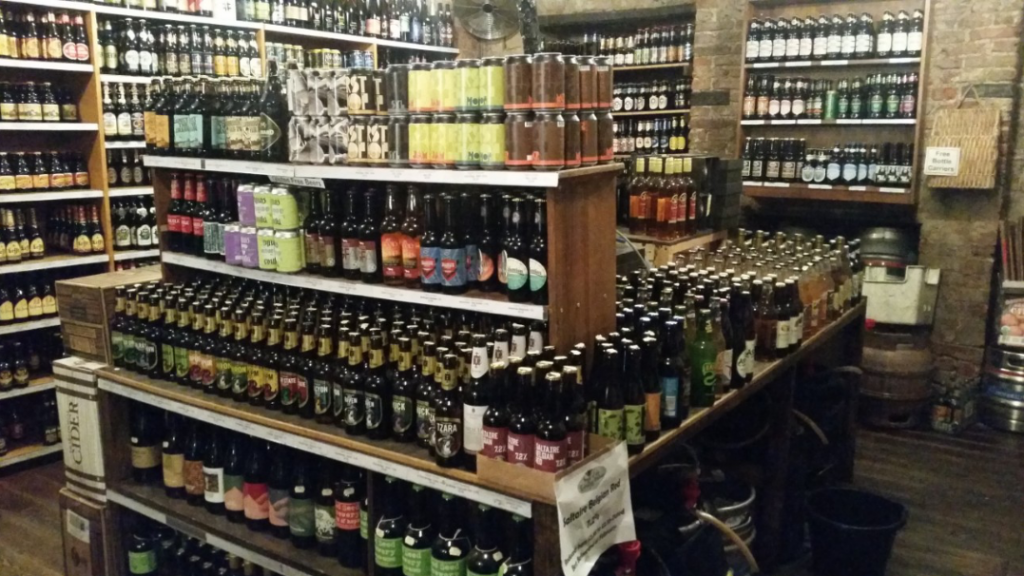 On future changes and growth 
Trembling Madness has progressed over the years and is ready for our second York store to open later this year plus also a large drinks supermarket and online shop – We're hoping to offer our service and knowledge to the whole of the UK.
We plan on chilling the entire shop down this year to retain the beer hop freshness, currently we have a wall of fridges in store plus refrigerated basement storage. Many breweries are shipping the same day as canning and also shipping in refrigerated transport, it's been done in the US for a while now and we need to follow suite in the UK. After persuading many customers that cans are a good thing they're finally taking off and we'll soon be catching up the States, where 50% of ale drunk is in cans.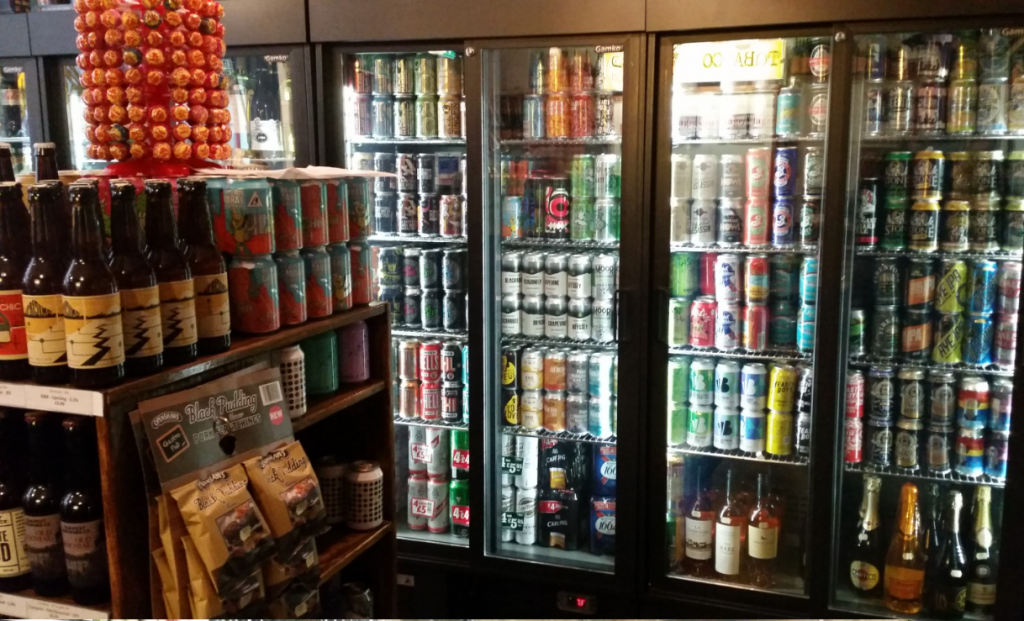 On their medieval drinking hall
We are fortunate enough to have our own medieval drinking hall above our store where many of the ales can be sampled. Our core range in the hall contains ales from Beavertown, Kernel, Buxton, Thornbridge, Siren, Wild Beer, Belgium, Germany plus most great British beer compa- nies. There's a range of great bar snacks and food to accompany, plus even holiday accommo- dation in our medieval building behind. The bar has won awards that range from the Best pub in Yorkshire and York to CAMRA's pub of the season.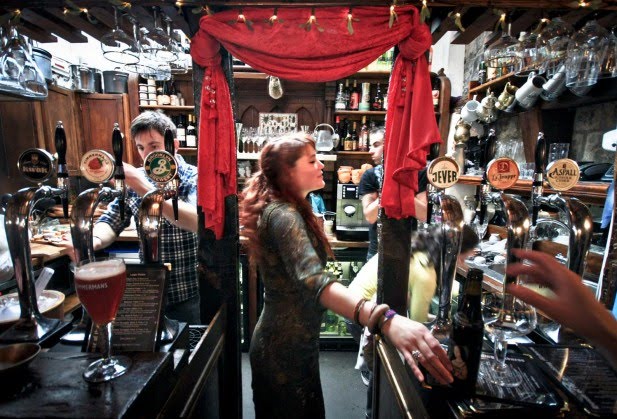 What can be learned from this Focus Feature?
The House of Trembling Madness has a unique location and style which is difficult to replicate outside of York, but their commitment to staff training and efforts to remaining ahead of the beer-curve are something which can be taken to heart by retailers of all sizes.
The key is selling the best possible range of beers and giving your staff the knowledge to feel empowered in selling them.
SIBA's Business Awards 2018 will open for entries on the 1st November 2017. For more information on the categories, or to see a list of previous winners, click here.