MPs says urgent help is needed to save UK breweries and pubs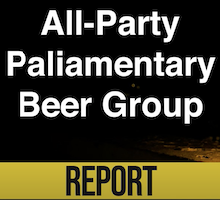 A new report by the All-Party Parliamentary Beer Group (APPBG) has today been published, click here to read Caskenomics: Cask beer's COVID crisis and the impact on people, pubs and places.
---
MPs says urgent help is needed to save UK breweries and pubs
A new report, issued by the All–Party Parliamentary Beer Group (APPBG) of MPs, has called on the Government to deliver urgent support to save pubs and breweries.
The report is released during a review of alcohol duty at HM Treasury which is expected to be completed during the summer.
The report, Caskenomics: Cask beer's COVID crisis and the impact on people pubs and places, follows an Inquiry carried out by the APPBG and produced with evidence from a cross section of more than 30 sector leaders. It notes that the pandemic has already brought about the closure of more than 2,000 pubs and breweries in the UK and has saddled both brewers and pub owners with enormous debts.  Without intervention, the report warns, even more community pubs will soon be lost for good.
Commenting on the report, chair of the APPBG, Mike Wood MP, said: "Brexit provides an opportunity for the Chancellor to charge lower duty rates on draught beers – it's an opportunity we would urge him to consider!  For instance, halving the duty on draught beer – a cut of 22p on an average strength pint – would be a £600 million shot in the arm to save our pubs and breweries."
Although pubs have now reopened, the report stresses that it is essential for the sector that the Government's roadmap out of lockdown continues as planned but that even then, sales will not be get back to pre-pandemic levels until the end of 2022 at the earliest.
A key recommendation of the report is for the Government to reduce the tax burden on brewers and pubs through lower duty, VAT or business rates.  For instance, the Treasury is urged to consider the merits of lowering duty on draught beers specifically, which are exclusively available in licensed premises and so have been uniquely hit by pubs enforced closure.
The plight of cask beer (or "real ale") has been specifically highlighted in the report. Prior to the pandemic, the sector contributed 72,500 jobs to the UK economy. Due to its short shelf life, the lockdowns caused 87 million pints of beer, worth more than £300 million, to be poured away.
The enforced closure of hospitality during the pandemic created a sharp rise in duty receipts from wine and spirits bought from supermarkets and off-licences, and a significant decline in receipts from beer. Within the beer sector, cask ale was the hardest hit. Many brewers continued to brew and sell beer for shop-sale as filtered, kegged or bottled beer, keeping the overall sales decline to 18 per cent. For most cask ale producers, this was not possible, and sales fell by 72 per cent to the end of February 2021.
Mike Wood continued: "The quintessential British pub has never been more vital to our communities than it is today, as we emerge from the dark isolation of the past 14 months. Unfortunately, in order to survive and thrive, the industry needs government to go even further in its support, extending and building on some of the measures introduced after March 2020.
"Supermarkets have flourished over the past year, with sales of wine and spirits soaring. But now we need to make sure that pubs and breweries come out of this fighting too."
Without Government intervention, the report warns, declining cask ale production would have significant fallout for a number of reasons:
Many pubs are reliant on cask ales to draw in wider custom and tourism to the locality with wider benefits for local employment
Cask ales are typically relatively low alcohol beers, one of lowest alcohol choices on the bar
British hop farmers could go out of business

All

cask ales are sold in returnable containers making it the greenest way to enjoy a beer.
In order to prevent the decline of pubs and the brewing industry, the APPBG report has made five specific recommendations:
Government to reduce the overall burden on brewers and pubs through lower overall duty, VAT and business rates and to urgently consider the specific merits of a lower rate of duty for on-sales of draught beers to encourage footfall back into pubs
Government must stick to the roadmap for reopening and run a public information campaign to restore consumer confidence that pubs are safe
Government to consider targeted COVID debt-forgiveness and measures to ameliorate the impact of crown debt
Industry to convene a working group to capitalise on the possibilities for cask beers as an environmentally friendly, locally focussed, premium and uniquely British product
Government to incentivise and/or support investment in the UK's hop sector, to tide it over a period of unprecedented uncertainty.
The pub sector, the report says, could provide the answer to a number of problems caused by the pandemic like rising unemployment, especially among young people, and social isolation.
Kelly McCarthy, landlady of the Ye Old Sun Inn, Tadcaster and chair of the Yorkshire section of the British Institute of Innkeeping, said: "In March 2020, it felt like our world had fallen apart. Now, the pubs need a cut in duty, to bring them back into the spotlight; to do that, we need the support of the government.
"It's essential that the government presses ahead with the roadmap out of lockdown and plans for 21 June. How can businesses plan without that certainty?"
Andy Slee chair of Black Sheep Brewery said: "Britain's brewers and community pubs have had an especially tough time in lockdown.
"The Government investment in lower draught beer duty identified by MPs in this report is critical to ensuring that these British institutions can continue to invest in their futures, help protect jobs and allow these community assets to thrive for the good of us all."
Commenting on the publication of the report, James Calder, SIBA Chief Executive,
"Cask beer produced by our nation's small and independent brewers is integral to our community pubs and forms an important part of our cultural heritage. However under Covid-19, cask beer has faced its biggest threat. It is welcome that MPs in this new report have therefore recognised the challenges that small breweries and pubs face to rebuild and the help we need to revive real ale.
"So that small independent brewers and pubs can survive and thrive into the future, now is the time for the Chancellor to consider a lower duty on draught beer and for the Government to keep to the roadmap out of lockdown. These measures will go a long way to ensure that cask is back for good and help the sector to recover."