'Black Gold' by Cairngorm Brewery named best beer in Scotland at the SIBA Independent Beer Awards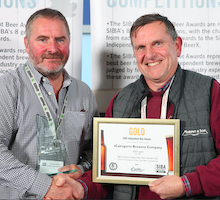 Cairngorm Brewery have taken home the Overall Champion Cask Beer Award at the Society of Independent Brewers (SIBA) Scotland Independent Beer Awards 2021, which was this year hosted at the Bolton Beer Festival in a joint judging event with the SIBA North West Region.
Cairngorm's aptly named 'Black Gold' took the Overall top spot – described as a 'traditional Scottish Stout with just the right amount of sweetness' it will now go on to fight it out against rivals from the rest of the UK in next year's National Finals. The Overall Silver award winner was first-time entrants Argour Ales' 'Gobhar Reamhar', with the Bronze going to Five Kingdoms Brewery's 'Wee McAsh Bitter'.
The SIBA Independent Beer Awards are run by and for brewers and are judged by fellow brewers from elsewhere in the UK, as well other representatives from the industry and expert beer judges – making these the much coveted 'brewers' choice' awards in Scotland. 
The Society of Independent Brewers (SIBA) represents independent craft brewers across the UK, and all the winners of the Scotland Independent Beer Awards will now go on to the National Finals at the BeerX UK event in Liverpool, March 2022. Hosting the awards on behalf of SIBA was Neil Walker, Chair of SIBA's Competitions Committee.
"It was great to see so many excellent Scottish beers represented in these hard-fought awards, and a huge congratulations goes to all of the winners, but in particular this year's overall Gold Cairngorm. A wonderful beer and a very deserving Champion!"
Bolton Beer Festival at the University of Bolton Stadium continues today and over the weekend, where all of the award-winning beers below will be on sale.

SIBA Scotland Independent Beer Awards 2021 – Full Winners List               
DATE   OF JUDGING & ANNOUNCEMENT           21st October
Overall Champion of the Cask Competition
 

Sponsored by Murphy & Son Ltd

 

Brewery
Product
ABV

Gold

 Cairngorm Brewery Company

 black gold

4.4

Silver

 Ardgour Ales Ltd

 Gobhar Reamhar

6.5

Bronze

 Five Kingdoms Brewery

 Wee McAsh Bitter

4.5
Cask British Dark Beers (up to 4.4%)
 

 

 

Brewery
Product
ABV

Gold

 Cairngorm Brewery Company

black gold

4.4

Silver

 Stewart Brewing

Stewart's 80/-

4.4

Bronze

 Strathaven Ales

Ebony

4.4
Cask British Dark Beers (4.5 to 6.4%)
 

 

 
Brewery
Product
ABV

Gold

 Kelburn Brewing Co Ltd

 Dark Moor

4.5

Silver

 Loch Lomond Brewery

 Silkie Stout

5

Bronze

 Cairngorm Brewery Company

 Wildcat

5.1
Cask British Bitters (up to 4.4%)
 

 

 
Brewery
Product
ABV

Gold

 Fyne Ales

Hurricane Jack

4.4

Silver

 Swannay Brewery

Scapa Special

4.2

Bronze

 Harviestoun Brewery

Bitter and Twisted

3.8
Cask Premium Bitters (4.5 to 6.4%)
 

 

 
Brewery
Product
ABV

Gold

 Five Kingdoms Brewery

 Wee McAsh Bitter

4.5

Silver

 Windswept Brewing Co.

 APA

5

Bronze

 Fyne Ales

 Highlander

4.9
Cask Session IPA (up to 4.3%)
 

 

 
Brewery
Product
ABV

Gold

 Loch Lomond Brewery

Southern Summit

4

Silver

 Stewart Brewing

Jack Back

3.7

Bronze

 Swannay Brewery

island Hopping

3.9
Cask Premium PAs (4.4 to 5.4%)
 

 

 
Brewery
Product
ABV

Gold

 Swannay Brewery

 Orkney IPA

4.8

Silver

 Loch Lomond Brewery

 Lost in Mosaic

5

Bronze

 Windswept Brewing Co. 

 Hurricane

4.5
Cask Speciality Light Beers
 

 

 

Brewery
Product
ABV

Gold

 Harviestoun Brewery

Schiehallion

4.8

Silver

 Strathaven Ales

Ginger Jock

4

Bronze

 Cairngorm Brewery Company

Trade Winds

4.3
Cask Speciality Mid to Dark Beers
 

 

 

Brewery
Product
ABV

Gold

 Orkney Brewery 

 Dark Island Reserve 

10
Cask Strong Beers 6.5% and over
 

 

 

Brewery
Product
ABV

Gold

 Ardgour Ales Ltd

Gobhar Reamhar

6.5

Silver

 Strathaven Ales

500

7