Inveralmond Brewery backs first Museum Late event as Perth joins ranks of other European cities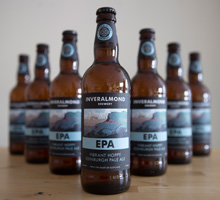 Perth-based Inveralmond Brewery is lending its support to a first-of-its-kind late night museum event at the celebrated Perth Museum and Art Gallery.
Inveralmond, which recently launched a new beer and unveiled a stunning new look for its brand, is sponsoring the launch party of Museum Late on Friday 19th May.
Museum Late – a concept made legendary in cities such as Berlin and London – will feature live music from Heartland FM's weekend 'wind-down' DJ Simon Duncan and performances from Adventure Circus. It will also be a chance for visitors to see and try Picts and Pixels, Perth Museum and Art Gallery's innovative new interactive exhibition. Mixing historical artefacts with the latest in gaming technology, Picts and Pixels formally kicks off on May 20th.
Inveralmond will provide its best-selling Ossian and Lia Fail beers, as well as its new EPA, at the launch party on 19th May. Tickets start at £9 and include a free drink on entry.
Famed for producing craft beer in the heart of Scotland, Inveralmond celebrates 20 years of brewing this month. Inveralmond recently added EPA, an Edinburgh Pale Ale, to its portfolio. It also relaunched bestsellers Ossian and Lia Fail, revealed a cohesive new look for all of its beers. The EPA, packed with Munich malt and Goldings hops, is a fitting addition to Inveralmond's line-up now that the Perth brewer is part of the same family as Innis & Gunn, one of Scotland's most successful craft brewers, based in Edinburgh. The beer style Edinburgh Pale Ale was the first truly global beer. A forerunner to IPA, it paved the way for British beer around the world.
EPA will be joined by Daracha, a ruby ale brewed with Amber malts and roast barley, to create Inveralmond's new core range.
Production of Inveralmond beers in Perth will be expanded following a £750,000 investment from Innis & Gunn in the Brewery, following the acquisition by the Edinburgh based craft brewer in 2016. Now home to both Innis & Gunn and Inveralmond beers, the substantial upgrade to the facility means 150% more capacity at the Perth site from this month (May) and a tripling of capacity by next year. It includes a barrel ageing hall, additional fermentation and processing vessels and new filtration technology.
Inveralmond founder and chief executive Fergus Clark said:
"It's an honour for us to be sponsoring the first Museum Late event at Perth Museum and Art Gallery. As a brand that made Perth its home 20 years ago this week, this event is a double celebration for us. We're looking forward to sharing our new-look Ossian and Lia Fail, as well as the new EPA, with museum visitors."
Helen Smout, chief executive of Culture Perth and Kinross, which delivers and develops museum and library services across the county, said:
"We're delighted to have the backing of Inveralmond for our first Museum Late event, which encourages visitors to party with the Picts and 'play' with history. As the Inveralmond brand is one that is inspired by Perthshire and heritage, this really is a perfect collaboration."
For tickets to Museum Late, click here