Cambridge brewers awarded top independent craft beer awards in East of England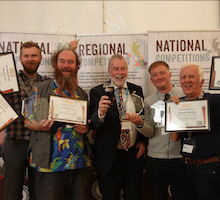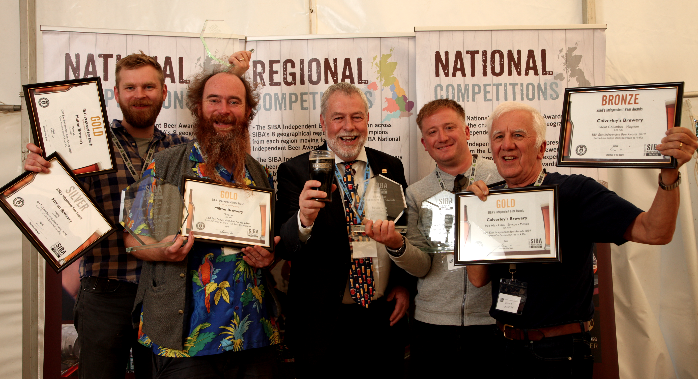 Two breweries just a few miles apart have taken home the two overall top spots at the SIBA East Independent Beer Awards, beating brewers from across the East of England, stretching from North Lincolnshire down to Essex and Hertfordshire, as well Norfolk, Suffolk, Cambridgeshire and Bedfordshire.
In the end though it was two breweries in Cambridge who took home thw two top spots, with Milton Brewery winning overall Gold in the cask competition and Calverley's Brewery top in the bottled & can competition.
The prestigious awards, run by the Society of Independent Brewers (SIBA), and held at Elgood's Brewery in Wisbech prior to their beer festival opening last night, are judged by brewers and beer experts and seen very much as the brewers' choice awards in the industry.
Milton Brewery's "Minerva" won the cask Gold and is Brewed with US, New Zealand and British hops for a powerful hop punch and satisfying bitterness. Collecting the awards was Founding Director Richard Naisby, who had this to say on the brewery's success.
"It's great to win as it's an award from our industry peers and the brewers that matter. This beer won its category last year so to go one better and win the overall competition Gold this year is brilliant. It's one of our favourite beers – golden, hoppy, and thirst quenching." 
Calverley's Brewery's "Pale Ale", brewed with punchy American Citra, Simcoe and Mosaic hops, took home the overall Gold in the bottle and can competition, beating stiff competition from across the region. Collecting the award was Founder Sam Calverley.
"It's great to get recognition in such a competitive market because it's assurance for your customers that they're getting really good quality even before they've tried the beer. We experimented a lot in the Taproom and this beer went down really well with customers so we knew we were on to a good thing. It's light, refreshing, but with lots of citrussy US hops it's a great beer to have with food."
Commenting on the competition was SIBA Competitions Committee Chair Guy Sheppard, who presented the awards,
"I would like to congratulate all of the winners in this year's SIBA East Independenty Beer Awards and in particular Milton and Calverley's Brewery who managed to edge out competition from across the region and take both top awards back to Cambridge!"
The competition took place immediately before the opening of the Elgood's Brewery Beer Festival 2019, taking place at Elgood's Brewery in Wisbech, which continues today, Friday 20th 5-10.30pm and Saturday 21st 12 midday until 10.30pm. The festival features over 150 beers from Independent Craft Breweries and will give the chance to be the first to try the regions newly award-winning beers.
SIBA East Independent Beer Awards 2019
                    
DATE   OF JUDGING & ANNOUNCEMENT        19thSeptember
Overall Champion of the Cask Competition
Sponsored by SPAsoft Ltd
Brewery
Product
ABV
Gold

 Milton Brewery 

 Minerva 

4.6

Silver

 Earl Soham Brewery 

 Albert Ale 

4.4

Bronze

 Oakham Ales 

 Citra 

4.2
Cask British Dark Beers (up to 4.4%)
Brewery
Product
ABV

Gold

 Billericay Brewing Company 

Woody's Bark

4.3

Silver

 Elgood & Sons Ltd 

Black Dog

3.6

Bronze

 Earl Soham Brewery 

Gannet Mild

3.3
Cask British Dark Beers (4.5 to 6.4%)
Brewery

Product

ABV

Gold

 Mauldons Brewery 

Black Adder Stout

5.3

Silver

 Milton Brewery 

Nero

5

Bronze

 Lacons Brewery  

Old Nogg

6
CaskBritish Bitters (up to 4.4%)
Sponsored by Charles Faram & Co Ltd

Brewery

Product

ABV

Gold

 Earl Soham Brewery 

Albert Ale

4.4

Silver

 Colchester Brewery 

Metropolis

3.9

Bronze

 Tydd Steam brewery ltd 

Ratcatcher

4.3
CaskPremium Bitters (4.5 to 6.4%) 
Sponsored by Rankin Brothers & Sons

Brewery

Product

ABV

Gold

 Green Jack Brewing Co Ltd 

 Trawlerboys 

4.6

Silver

 Mile Tree Brewery Ltd 

 Larksong 

4.5

Bronze

 The Norfolk Brewhouse 

 Pond Hopper 

4.5
CaskSession IPA (up to 4.3%)
Sponsored by Rastal GmbH & Co KG

Brewery

Product

ABV

Gold

 Oakham Ales 

Citra

4.2

Silver

 Leigh on Sea Brewery 

Legra Pale

3.8

Bronze

 Grain Brewery Ltd 

ThreeOneSix

3.9
CaskPremium PAs (4.4 to 5.4%)
Sponsored by Crisp Malt
Brewery
Product
ABV
Gold

 Milton Brewery 

 Minerva 

4.6

Silver

 Adnams 

 Ghost ship 

4.5

Bronze

 Tring Brewery Ltd 

 Pale Four 

4.6
Cask IPA (5.5 to 6.4%)
Sponsored byClose Brothers Brewery Rentals
Brewery
Product
ABV
Gold

 Tring Brewery Ltd 

White IPA

5.5

Silver

 Oakham Ales 

Green Devil IPA

6

Bronze

 Leigh on Sea Brewery 

Cockle Row Spit

5.6
CaskSpeciality Light Beers
Brewery
Product
ABV
Gold

 Tydd Steam brewery ltd 

 Ginja Ninja 

4.3

Silver

 Grain Brewery Ltd 

 Weizen 

5

Bronze

 Brentwood Brewing CO 

 Buzz Lightbeer 

4.5
Cask Speciality Mid to Dark Beers
Brewery
Product
ABV
Gold

 Mauldons Brewery 

Blackberry Porter

4.8

Silver

 Billericay Brewing Company 

Chilli Porter

5.9

Bronze

 The Norfolk Brewhouse 

Triskele

4.5
Cask Strong Beers 6.5% and over
Sponsored byClose Brothers Brewery Rentals
Brewery
Product
ABV
Gold

 Grain Brewery Ltd 

Lignum Vitae

6.5

Silver

 Lacons Brewery  

Audit

8

Bronze

 Ferry Ales Brewery 

Cossack

8
Champion Bottle/Can Beers
Brewery
Product
ABV
Gold

 Calverley's Brewery 

 Pale Ale – Citra – Simcoe – Mosaic 

4.2

Silver

 The Norfolk Brewhouse 

 Jackalope 

4.2

Bronze

 Elgood & Sons Ltd 

 Coolship Fruit 

5
Bottle/Can British Dark Beers (up to 4.4%)
Brewery
Product
ABV
Gold

 Wolf Brewery 

Sirius Dog Star

4.4

Silver

 St. Peter's Brewery Co. Ltd 

Ruby Red Ale

4.3

Bronze

 Calverley's Brewery 

Stout Columbus – Magnum

3.2
Bottle/Can British Dark Beers (4.5 to 6.4%)
Brewery
Product
ABV
Gold

 George's Brewery 

 Hopmonster Mad Dog Mild 

4.9

Silver

 Billericay Brewing Company 

 Chapel Street Porter 

5.9

Bronze

 Nethergate Brewery 

 Old Growler 

5
Bottle/Can British Bitters (up to 4.4%)
Brewery
Product
ABV
Gold

 Elmtree Beers Ltd 

Best Bitter

4.2

Silver

 George's Brewery 

Empire

4.0

Bronze

 The Norfolk Brewhouse 

Galtons No1 Norfolk Ale

4
Bottle/Can Premium Bitters (4.5 to 6.4%)
Brewery
Product
ABV
Gold

 Ferry Ales Brewery 

 49 Squadron 

4.9

Silver

 Elgood & Sons Ltd 

 Warrior Ale 

5.5

Bronze

 Green Jack Brewing Co Ltd 

 Gone Fishing 

5.5
Bottle/Can Session IPA (up to 4.3%)
Brewery
Product
ABV
Gold

 Calverley's Brewery 

Pale Ale – Citra – Simcoe – Mosaic

4.2

Silver

 Elmtree Beers Ltd 

Golden Star Morris

4

Bronze

 Grain Brewery Ltd 

ThreeOneSix

3.9
Bottle/Can Premium PAs (4.4 to 5.4%)
Sponsored by Beatson Clark
Brewery
Product
ABV
Gold

 Ferry Ales Brewery 

 Mandarina 

5

Silver

 Billericay Brewing Company 

 Sex&Drugs&Rock&Roll 

5

Bronze

 Nethergate Brewery 

 Growling Dog Session IPA 

4.5
Bottle/Can IPA (5.5 to 6.4%)
Brewery
Product
ABV
Gold

 Tring Brewery Ltd 

White IPA

5.5

Silver

 Leigh on Sea Brewery 

Cockle Row Spit

5.6

Bronze

 St. Peter's Brewery Co. Ltd 

India Pale Ale

5.5
Bottle/Can Imperial IPA (6.5% and over)
Brewery
Product
ABV
Gold

 Billericay Brewing Company 

Mayflower Gold

6.5
Bottle/Can Session Lager & Pilsners
Brewery
Product
ABV
Gold

 Adnams 

Dry Hopped lager

4.2

Silver

 The Norfolk Brewhouse 

DewHopper

4

Bronze

 St. Peter's Brewery Co. Ltd 

Stormtrooper Lightspeed Pilsner

4.2
Bottle/Can Premium Lager & Pilsners
Brewery
Product
ABV
Gold

 Ferry Ales Brewery 

 Lincoln Lager 

4.5

Silver

 Woodforde's Brewery 

 Conquest 

4.5

Bronze

 Wibblers Brewery (Farms) Ltd 

 Odyssey 

5
Bottle/Can Speciality Light Beers 
Brewery
Product
ABV
Gold

 The Norfolk Brewhouse 

Jackalope

4.2

Silver

 Grain Brewery Ltd 

Weizen

5

Bronze

 Nethergate Brewery 

Umbel Ale

3.8
Bottle/Can Speciality Mid to Dark Beers 
Brewery
Product
ABV
Gold

 Elgood & Sons Ltd 

 Plum Porter 

4.5

Silver

 Green Jack Brewing Co Ltd 

 red herring 

5

Bronze

 Leigh on Sea Brewery 

 Renown 

4
Bottle/Can Sours/Spontaneous
Brewery
Product
ABV
Gold

 Elgood & Sons Ltd 

Coolship Fruit

5
Bottle/Can Strong Beers 6.5% and over
Brewery
Product
ABV
Gold

 Lacons Brewery  

Audit Ale

8

Silver

 St. Peter's Brewery Co. Ltd 

Cream Stout

6.5

Bronze

 Ferry Ales Brewery 

Cossak

8