Lacons Brewery Teams up with Renowned Blues Festival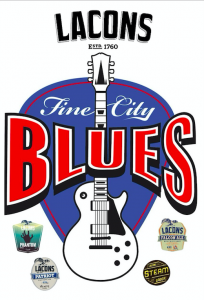 Lacons Brewery has teamed up the Fine City Blues Festival for a 'Tap Takeover & Blues' event at The Lawyer in Norwich on Sunday 29th October.
The Fine City Blues Festival, now in its 4th year, is running from Thursday 19th to Sunday 29th October and offers pub goers the chance to catch many talented blues acts in venues across the region.
The Lacons event sees The Lawyer, on Wensum Street in Norwich, dedicate all of its cask lines to beers from 'The Great Yarmouth Brewer', including Phantom, Lacons Hallowe'en special ale; Patriot, a recently relaunched session ale, which won Bronze in the Campaign for Real Ale 2017 'Champion Beer of Norfolk' competition, along with Falcon, a heritage recipe from 1926. Lacons craft beer, Steam Lager will also be available.
 The 'Lou's Juke Joint' live music session will run from 12pm until 7pm hosted by local band Don't Lose Heart – musicians Louise Sadler & Dickie Harrt. According to festival organiser and blues musician Dave Thomas, "Lou's Juke Joint evokes the kind of barrelhouse honkytonk you'd find in a town like Clarksdale in the Mississippi Delta", and the day promises atmospheric acoustic blues from the Heartland Delta Singers, Don't Lose Heart, Clare Free, The Journeymen and Yve B.
 The Lacons team and staff from The Lawyer will also be joined by local food service company, Serendipity, who have recently teamed up the brewery to produce a range of delicious sausages with Lacons ales in them. There will be 3 sausages available freshly BBQ'd on the day – Spicy Encore, British Legacy and Black Falcon. All will be served with sour dough, onions and relish.
 Judi-mae Alderton from Lacons Brewery comments "We are really excited about this event as it's a great collaboration between Fine City Blues Festival, the great city pub the Lawyer, our lovely ales and our brand new range of sausages. The perfect Sunday some might say?!"
 You can find out more about the event and RSVP on Facebook: https://www.facebook.com/events/157103301550183/
 For more information on the Fine City Blues festival, visit their website here: https://www.unit23.co/current-projects/fine-city-blues/.
 For more information about Lacons brewery, visit their website here: https://www.lacons.co.uk/.