Turpin Brewery & Tring Brewery named top Independent Brewers in East of England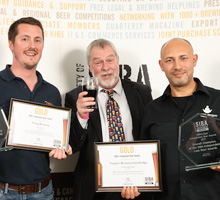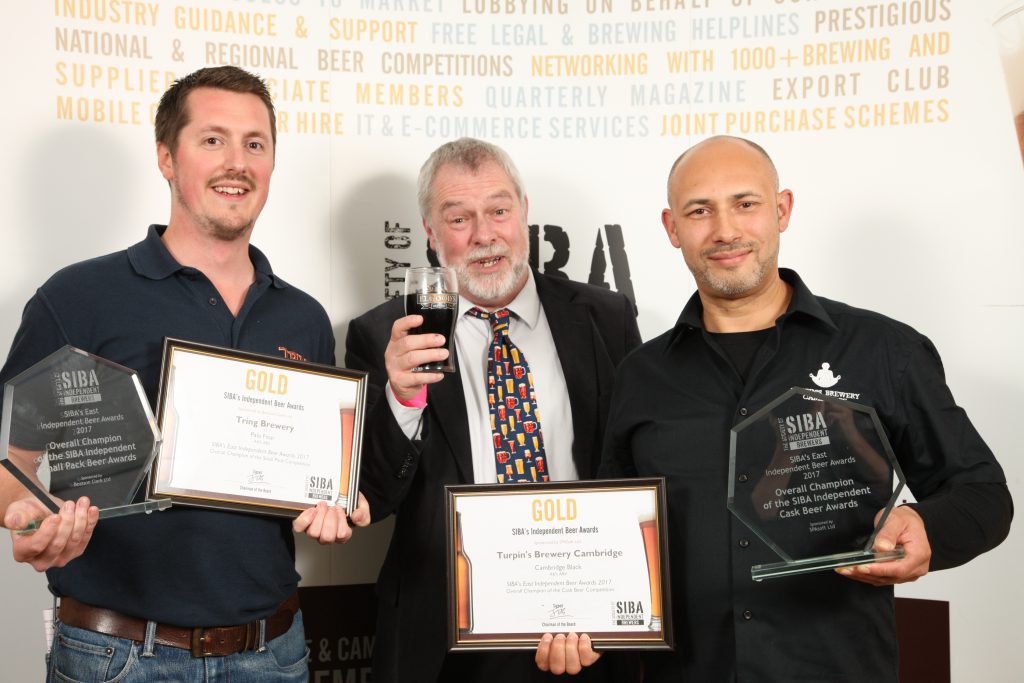 Turpin Brewery in Cambridge and Tring Brewery in Hertfordshire have taken home the two top spots at the SIBA East Independent Beer Awards, taking home overall Gold in the cask and small pack competitions respectively.
The prestigious awards, run by the Society of Independent Brewers (SIBA), held at Elgood's Brewery in Wisbech prior to their beer festival opening last night, are judged by brewers and beer experts and seen very much as the brewers' choice awards in the industry.
Turpin Brewery's beer "Cambridge Black" took home the overall Gold in the cask competition and is described as having 'balanced flavours of coffee, cocoa and dark chocolate' whereas Tring brewery's "Pale Four" was named overall small pack (bottle and can) winner and could not be more different, described as being 'Hops, hops and more hops' with 'three different types of specialty malts providing a robust base of malt flavour for this punchy American West Coast IPA style beer'.
Commenting on the competition was SIBA Competitions Committee Chair Guy Sheppard, who presented the awards,
"These were very closely fought awards and my thanks go out to all the breweries involved. Turpin and Tring should be very proud of edging ahead of the very high quality pack with these two fantastic beers and I should wish to thank Elgood's as well for putting on such a fantastic event." 
Collecting the award for Turpin brewery was owner and brewer Marcus Turpin, who had this to say on their win, "This is a huge surprise. The beer has been tweaked over last two years, we think the recipe is great and we're just that glad people agree and are enjoying it as much as we do. It's also great to see a dark beer winning at this competition and joining us on the dark side!"
Tring Brewery's Sales Manager Alex Jackson was on hand to collect their award said the beer is already proving very popular with customers, "To win this award with one of our relatively new beers Pale Four is fantastic. It's our take on a hoppy American IPA, but with British drinkability. It's a beer that has grown and grown in popularity amongst our customers – which will hopefully continue following these awards! We're hugely proud to win."
The competition took place immediately before the opening of the Elgood's Brewery Beer Festival 2017, taking place at Elgood's Brewery in Wisbech, which runs Thursday 21st 5-10.30pm, Friday 22nd 5-10.30pm and Saturday 23rd 12 midday until 10.30pm. The festival features over 150 beers from Independent Craft Breweries and will give the chance to be the first to try the regions newly award-winning beers.
Overall Champion of the Cask Competition
Sponsored by SPAsoft Ltd
Brewery
Product
ABV
Gold
 Turpin's Brewery Cambridge
 Cambridge Black
4.6
Silver
 Grain Brewery
 Lignum Vitae
6.5
Bronze
 Oakham Ales
 Green Devil IPA
6.0
Cask Standard Mild Ales & Brown Ales
Sponsored by Rankin Brothers & Sons
Brewery
Product
ABV
Gold
 Wolf Brewery
Sirius Dog Star
4.4
Silver
 Briarbank Brewing Company
Cobnut
4.2
Bronze
 Milton Brewery
Minotaur
3.3
Cask Standard Bitters & Pale Ales
Sponsored by Muntons PLC
Brewery
Product
ABV
Gold
 Lacons Brewery
Encore
3.8
Silver
 Grain Brewery
ThreeOneSix
3.9
Bronze
 Brewster's Brewery
Hophead
3.6
Cask Best Bitters & Pale Ales
Sponsored by Charles Faram & Co Ltd
Brewery
Product
ABV
Gold
 Grain Brewery
Redwood
4.3
Silver
 Lacons Brewery
Legacy
4.4
Bronze
 Tring Brewery
Dropbar
4.0
Premium Bitters & Pale Ales 
Sponsored by Rankin Brothers & Sons Ltd
Brewery
Product
ABV
Gold
 Brentwood Brewery
Hope & Glory
4.5
Silver
 Tydd Steam Brewery
Dr Fox's Chicken Choker
4.6
Bronze
 Elmtree Beers Ltd
Snetterton Scary Tree
4.5
Cask Strong Bitters & Pale Ales
Sponsored by Murphy & Son Ltd
Brewery
Product
ABV
Gold
 Oakham Ales
Green Devil IPA
6.0
Silver
 Brentwood Brewery
Lumberjack
5.2
Bronze
 Green Jack Brewing Co. Ltd.
Mahseer IPA
5.8
Cask Premium Strong Beers
Sponsored by Crisp Malting Group
Brewery
Product
ABV
Gold
 Grain Brewery
Lignum Vitae
6.5
Silver
 Green Jack Brewing Co. Ltd.
Ripper
8.5
Bronze
 Lacons Brewery
Audit Ale
8.0
Cask Porters, Stouts, Old Ales, Strong Milds & Strong Brown Ales
Brewery
Product
ABV
Gold
 Turpin's Brewery Cambridge
Cambridge Black
4.6
Silver
 8 Sail Brewery
Victorian Porter
5.0
Bronze
 The Norfolk Brewhouse
Moon Gazer Dark Mild
4.9
Cask Speciality Light Beers
Sponsored by Rankin Brothers & Sons Ltd
Brewery
Product
ABV
Gold
 Green Jack Brewing Co. Ltd.
Orange Wheat
4.2
Silver
 Nethergate Brewery
Umbel Ale
3.8
Bronze
 The Norfolk Brewhouse
Moon Gazer Raspberry Gold
4.2
Cask Speciality Mid to Dark Beers
Brewery
Product
ABV
Gold
 Nethergate Brewery
Umbel Magna
5.0
Silver
 Mauldons
Blackberry Porter
4.8
Bronze
 Elgood & Sons Ltd
Plum Porter
4.5
Champion Small Pack Beers
Sponsored by Beatson Clark Ltd
Brewery
Product
ABV
Gold
Tring Brewery
Pale Four
4.6
Silver
Elgood & sons Ltd
Warrior Ale
5.5
Bronze
Wolf Brewery
Sirius Dog Star
4.4
Small Pack Standard Mild Ales & Brown Ales 
Brewery
Product
ABV
Gold
 Wolf Brewery
Sirius Dog Star
4.4
Silver
 Barrell & Sellers
Mild'n'Bitter
4.2
Bronze
 Bishop Nick Limited
Dark Mild
3.7
Small Pack Standard Bitters & Pale Ales
Sponsored by CFB Boilers Ltd
Brewery
Product
ABV
Gold
 Elmtree Beers Ltd
Best Bitter
4.2
Silver
 Woodforde's Brewery
Bure Gold
4.3
Bronze
 Bishop Nick Limited
Heresy
4.0
Small Pack Premium Bitters & Pale Ales
Sponsored by Rastal GmbH & Co KG
Brewery
Product
ABV
Gold
 Tring Brewery
Pale Four
4.6
Silver
 Adnams
Ghost Ship
4.5
Bronze
 Lacons Brewery
Affinity
4.8
Small Pack Strong Bitters & Pale Ales
Sponsored by Rastal GmbH & Co KG
Brewery
Product
ABV
Gold
 Elgood & sons Ltd
Warrior Ale
5.5
Silver
 Bishop Nick Limited
Divine
5.1
Bronze
 Brewster's Brewery
IPA
6.0
Small Pack Premium Strong Beers
Brewery
Product
ABV
Gold
 Tring Brewery
Death or Glory Ale
7.2
Silver
 Adnams
Tally-Ho
7.2
Bronze
 Elmtree Beers Ltd
Gambrinosity
6.8
Small Pack Standard Lager & Pilsners
Brewery
Product
ABV
Gold
 The Norfolk Brewhouse
DewHopper lager
4.0
Silver
Bronze
Small Pack Premium Lager & Pilsners
Sponsored by Saxon Packaging
Brewery
Product
ABV
Gold
 Calvors Brewery
Premium Pilsner
5.0
Silver
 Brentwood – Elephant School
Pils
4.6
Bronze
 Ferry Ales Brewery
Golden Fleece
4.5
Small Pack Porters, Stouts, Old Ales, Strong Milds & Strong Brown Ales
Brewery
Product
ABV
Gold
 Nethergate Brewery
Old Growler
5.5
Silver
 Mauldons
Black Adder Stout
5.3
Bronze
 Woodforde's Brewery
NOG
4.6
Small Pack Speciality Light Beers 
Brewery
Product
ABV
Gold
 Green Jack Brewing Co. Ltd.
Flower Power
6.0
Silver
 Nethergate Brewery
Lemon Head
4.0
Bronze
 Wolf Brewery
Straw Dog
4.5
Small Pack Speciality Mid to Dark Beers 
Brewery
Product
ABV
Gold
 Mauldons
Blackberry Porter
4.8
Silver
 Nethergate Brewery
Umbel Magna
5.0
Bronze
 Elmtree Beers Ltd
Winter Solstice
4.6