Atlas Packaging help to facilitate St.Austell Brewery re-brand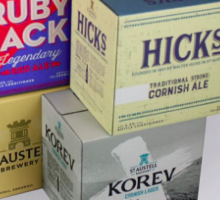 St Austell Brewery have recently unveiled new bottle designs and logos for its Tribute, Korev and Proper Job beers in the UK. Atlas Packaging has helped to facilitate this by developing bespoke packaging suitable for the new range of bottles.
Mark Leverton, Sales Director and Key Account Manager for St. Austell Brewery said: "Re-visiting the design of the perforation on the 8 x 500ml packs has allowed the new packaging line to become more user friendly and to also aid the presentation in store" … "Tweaking the design ever so slightly really does make an impact and has allowed for a more consistent and efficient run via St. Austell Brewery's case erector".
Our approach to St. Austell Brewery's packaging has always been to support their superior knowledge, integrity and innovation whilst communicating clearly about each other's manufacturing processes. Ultimately, we have found that efficient boxes and bottling allows for operations for both companies to run smoothly and to occur in regular working hours.
During our 20-year relationship with St. Austell Brewery we have developed and advanced our corrugated offering, which we are delighted to provide to St. Austell Brewery and to the brewing and drink industry today as a whole.