Want to put your beer in cans? Here's how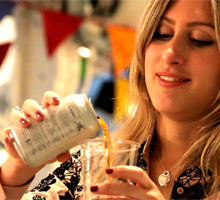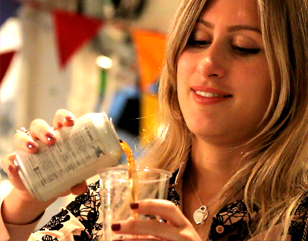 Canned beers are hot stuff right now. They are loved by consumers everywhere, they are trendy, convenient and their bold designs make them stand out on the shelf. The latest research from Nielsen shows that sales of canned craft beer increased by 327% from January to August 2017 alone – and now already account for 25% off all craft beer sold in multiple grocers and off licenses.
Is the can right for your drink?
Quality of taste: The quality of an independent beer in a can is usually better than in other formats. The technology involved in making and filling cans is advanced – unlike bottles, they protect from light and other elements, ensuring that the drink isn't compromised.
And you needn't be concerned that placing your brew into a new pack will force you to alter its intended characteristics. Canning your beer will not require you to change your gas levels and you can easily place an unpasteurised beer into a can. If you pour your drink into a glass you will find it very hard to tell how it was packaged.
When people think that their beer tastes 'off', it is usually the result of oxidisation. When beer is exposed to air, chemical reactions take place that make the taste of the beer change rapidly. Cans are air-tight; seamed ends mean there is no way that air is going to get in until someone pops the ring-pull.
Create your can design
Once you've decided to can your beer, you will need to think about the design for your finished product. A distinct advantage of the can is its 360-degree canvas. Not restricted to just a label around the centre, the entire package can be transformed into a work of art – canned craft beers already have some great examples of bold and creative designs that really stand out on a shelf.
Whether creating your own design or working with a professional designer there's a handy free design tool called Can Creator.
Can Creator can help you to visualise your final product, in 3D, in seconds. Available for Mac and Windows and free to use, it allows you to download a template and try different features, finishes and colours in seconds. You can even rotate your can 360 degrees to view from any angle. It also allows you to share your creations with friends and colleagues, so you can showcase your final design.
Sustainability: Beverage cans have some serious environmental credentials too. Any metal is a permanently available material, meaning it's uniquely 100% and infinitely recyclable with no loss of quality – unlike other pack formats. This makes cans an environmentally friendly packaging choice as they stay in the recycling loop forever.  Did you know, for example, that 80% of the metal ever produced is still in use today?
The impact sustainability has on the brand image in terms of its green credentials is becoming increasingly more appealing and important to consumers. The packaging with the best recycling story, combined with great design and taste is now the most attractive option. The recycling story resonates with the millennial audience who now seek brands that align with their values. If they care about the environment, they want the products they buy to meet their values too.
Research by GfK showed that consumers aged 35+ believe the can's recyclability is its strongest feature. Over half of consumers (52 per cent) believe it's important to consider the packaging's impact on the environment when choosing a drink to purchase. It's one of the top three benefits of buying a can. Consumer demands have changed to seek packaging that not only looks good and tastes great, but has a positive impact on the environment too.
Not only are cans sustainable from a recycling perspective, but for the simple reason they are light, strong and easier to stack, meaning they take up less space and therefore less transportation is needed to ship them from manufacturer to retailer. Less trucks on the road means less CO2 produced.
The can manufacturing process
Many smaller brewers still hold the common misconception that they don't have the ability or capacity to can their beer. But the fact is size and volume are no longer the challenges they were. The increase in demand for craft in cans has driven the launch of a range of affordable, short-run contractor services, mobile canning companies and multiple choices when purchasing very low to high volume in-house lines/systems.
This rise in short-run, contract filler lines and mobile canning line options means that most brewers can can their brews, if they wish, at very competitive prices.
The first step is to assess how many cans you want to fill and at what speed. For a consistently large volume, you might want to get in touch with a major supplier such as the following Can Makers members: Ardagh, Ball or Crown. If, however, you are planning on lower volumes, consider a contract canner or employing a mobile canner.  You can find contact details for all choices on the Indie Drinks Can Advice site.
An infographic on the process can be viewed on the Indie Drinks Can Advice website
Keep on innovating
Once you've got your product into a boldly designed can, there's a host of additional innovative options at your disposal to take your drinks brand to another level. For example, thermochromic inks allow surface areas of the can to change colour. This can be used to show when the beverage is the optimum temperature for drinking, so your consumer can enjoy the product at its very best and enjoy the great taste.
Be our guest
As you can see, cans offer a win, win solution for brewers, retailers and consumers alike, and now the benefits aren't just reserved for the bigger brands.  Please do visit Indie Drinks Can Advice for further details on how to get your drink into a can: www.indiedrinkscanadvice.co.uk.