Saxon Packaging – SIBA's BeerX 2021 Official Beer Box Partner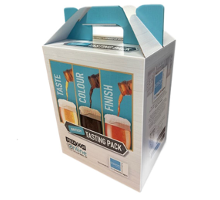 Case Study by Saxon Packaging
As proud, Silver Members of SIBA for over 6 years and counting, BeerX has always been an event we have looked forward to each year and has long been a key date in our calendars here at Saxon Packaging. Our team has always enjoyed attending and exhibiting, meeting fellow SIBA members and brewers alike.
Naturally, we were disappointed that we were unable to attend last years' exhibition, so when the opportunity presented itself (by way of Neil Walker's newsletter) that SIBA were on the lookout for a UK manufacturer to supply the packaging for the British & International Beer Box tasting pack for the online tasting session during this years' event. We of course were very keen to offer our support!
Concept
Neil Walker (Head of Comms & Marketing at SIBA), wanted the packaging to act as an extension to the existing branding of the BeerX website. Using the core elements of the webpages as a starting point (a white wooden backdrop, BeerX online logo and the new aqua blue highlight colour), our designers quickly got to work in producing a premium beer packaging design whilst maintaining a fresh, minimalistic look and feel to the packaging artwork.
Neil also wanted the taster pack to appear as if the box were split into two separate packs (three beers for each tasting session), as indicated in his initial mock-up below. And yes, sometimes all we need is a basic line drawing to help steer our in-house designers towards the right concept!
Design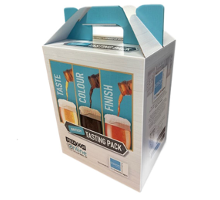 The BeerX British & International Beer Box tasting pack was designed to accommodate an assortment of six bottles & cans of varying shapes & sizes. With this in mind, each of the six individual cells were structurally designed to the measurements of 70mmx270mm to accommodate 330/440ml cans up to the wide format 500ml beer bottles that are available on the market. Our designers also incorporated the handle that was stipulated in Neil Walker's original hand drawn mock-up.
Once Neil at SIBA approved the structural design of the packaging, it was time to create the artwork. Due to the volumes required and a tight turnaround time, the beer boxes were printed using the Digital printing process onto coated corrugated board. Digital printing uses a four colour print process, Cyan, Yellow, Magenta and Black (CMYK), which provides high quality print detail with no origination costs – a great solution when high quality print is required with lower quantity requirements.
Delivery
After the completion of the printing process; the BeerX Taster packs subsequently went through the final steps of being die-cut and glued here at Saxon HQ, using our Marumatsu and Jagenberg machines.
The result is a six-cell, premium beer packaging solution worthy of admiration. With a bright and fresh blend of both functional & visual design work, BeerX online attendees can look forward to their products arriving safely and engaging with a great unboxing experience.
Of course, once all the beers have been consumed, the 100% recyclable corrugated cardboard packaging can be reintroduced into the recycling chain, a big tick for current demands from consumers for product suppliers to provide sustainable packaging, worthy of a share on social media… if we do say so ourselves!
"We have always taken great pride in supporting our SIBA members with their packaging solutions over the years, and when the opportunity arose to assist SIBA directly, we were only too pleased to help. With a tight deadline along with an interesting 2-in-1 packaging concept, we're very pleased with how the BeerX British & International Taster Packs have turned out. We look forward to supporting SIBA with more quality beer packaging solutions in the future." – Mike Impson, Sales Director
"Saxon Packaging took my very rough concept and made it into something which really delivers on what we were setting out to do – present six different beers in an attractive and functional tasting pack for our BeerX Online tasting session. They have been brilliant to work with and have created something which not only stores and presents the beers safely, but which also looks fantastic and matches the BeerX Online branding perfectly. We couldn't be happier with the outcome." Neil Walker, SIBA Head of Comms & Marketing.
If you are in need of your own beer packaging solution and would like to discuss your own packaging requirement with our in house experts, submit your questions via our online enquiry form or call us on 01502 513112.